Enriched with many vitamins and valuable ingredients, the CurSun+ is perfect for daily vitality. The patented manufacturing method of the extract results in a 10-fold higher bioactivity of the curcumin. By optimising with bioresonance and thanks to the micellisation of the high-quality ingredients, such as vitamin D3, vitamin K2 and turmeric, the resorption capacity is significantly increased.
Content: 170 g
Product details
Inflammation regulation and vitality
CurSun+ contains a unique turmeric extract, which contains elements of the turmeric root and not only the well-known curcumin, which belongs to the polyphenols like resveratrol. The patented manufacturing method of the extract results in a 10-fold higher bioactivity of the curcumin. The bioactivity refers to the biologically active concentrations in the blood, while the bioavailability only tells how much of a substance enters the blood, but not how long it remains there in an effective form.
Testing evidence and measurements
In the summer of 2017 a pilot project carried out by a university institution in the field of health measurement demonstrated the effectiveness of i-like CurSun+ through blood analysis.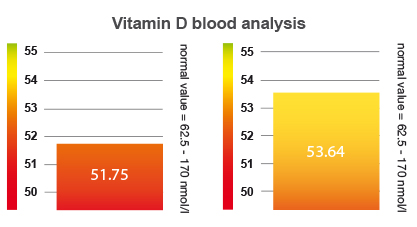 Blood analysis showed that Vitamin D content increased by 1.89 nmol/l following a two-week dose of the CurSun+ powder! This increase is significant and health-promoting.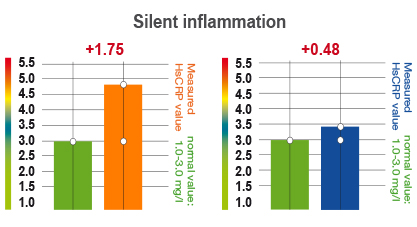 The C-reactive protein indicates silent inflammation. A normal value is 1.0-3.0 mg/l. Anything exceeding 3.1 suggests a condition that should be treated. In all subjects the CRP values decreased significantly after 2 weeks.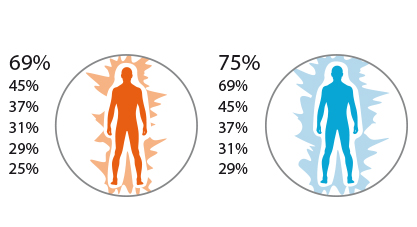 Here is a measurement with high-frequency highvoltage photographed. Left before ingestion, right 15 min. after taking CurSun+.
Resilience
(Mental resistance, health)
The value of the measured resilience had risen by slightly more than 5% in two weeks. The measurement of the resilience over the whole group showed a clear improvement of the score (measured value) by 7.5 points, respectively 5.53%.
General health condition
The results on the psycho-emotional front showed a clear improvement of the general health condition after two weeks. The positive change was measured at 7,491%.
Summary
The influence of the i-like CurSun+ on resilience was clearly demonstrated. All statements made in accordance with the health claims have been proven. The effect of the individually tested ingredients has therefore been demonstrated.

Application
Add one teaspoon (5g) into a glass with 150 ml water, stir well and drink directly.
Ingredients
Sucrose, Dextrose, Herbal extracts (Curcuma 43%, Ginger, Black pepper, Green tea), 7,5%, Acidulant (citric acid), L-ascorbic acid, natural flavourings, Resveratrol, Colouring beetroot extract, Sweetener (Steviolglykoside), Thickener(Xanthan Gum), Menaquinone, Cholecalciferol.
| Nutritional values | per 1 portion | % NRV* |
| --- | --- | --- |
| Herbal mixture of turmeric, ginger, black pepper, green tea | 385 mg | ** |
| thereof Turmeric | 145 mg | ** |
| thereof Curcumin | 15 mg | ** |
| Resveratrol | 100 mg | ** |
| Vitamin C | 40 mg | 50 % |
| Vitamin K2 | 80 µg | 100 % |
| Vitamin D3 | 20 µg | 400 % |
| * Nutrient reference value according to Regulation (EU) 169/2011 | | ** no reference value available |